Basement Foundation Crack Filling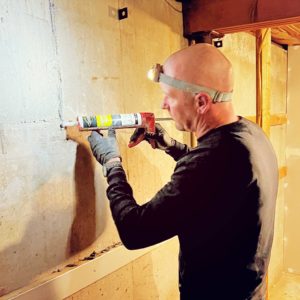 Foundation cracks in your basement can cause extensive damage to your home and belongings and can sometimes lead to serious flooding. When you have cracks in the basement floor or walls, water from the soil can easily enter your basement causing you a multitude of flooding problems.
Damaged building materials and personal belongings can be expensive and sometimes have sentimental value that is impossible to replace. Other water damage issues like mold, wood rot, and termites are usually not far behind any water intrusion you may have.
The most common cause of a basement crack or leak is poor drainage around the foundation of your home. Some of these problems can be addressed from the outside of the home, but the basement cracks will still need to be repaired and a proper drainage system needs to be installed to keep them from coming back.
So how does Dog Gone Waterproofing tackle basement crack repair?
Basement Floor Cracks
Before we repair your basement floor cracks, we first recommend installing a proper drainage system for your basement. A perimeter drainage system should keep water from ever getting into the cracked floor in the first place.
And if a direct drainage channel is needed to flow water from the basement floor cracks to the sump pump, that can be done as well. After the proper drainage system is in place, the basement floor cracks will be sealed up and covered with fresh concrete to prevent future leaks.
Basement Wall Cracks
Basement wall cracks are another symptom of water intrusion. You don't want to just put a band aid on the problem or it will keep coming back. You need to get to the root of the problem with a proper drainage system installation.
After that step is finished, we will either use a hydrophilic filler or use a poly injection system to permanently seal up the crack and stop any water intrusion. Our certified waterproofing specialists will determine what is the best route to take to for basement crack repair and patch up your foundation wall cracks permanently, so your basement stays dry and free from water damage.
If you are experiencing water issues in your basement, call Dog Gone Waterproofing for a free assessment. If there's something that your basement needs to stay dry no matter how much rain we get, our certified waterproofing specialists will have the answer.