Meet The Team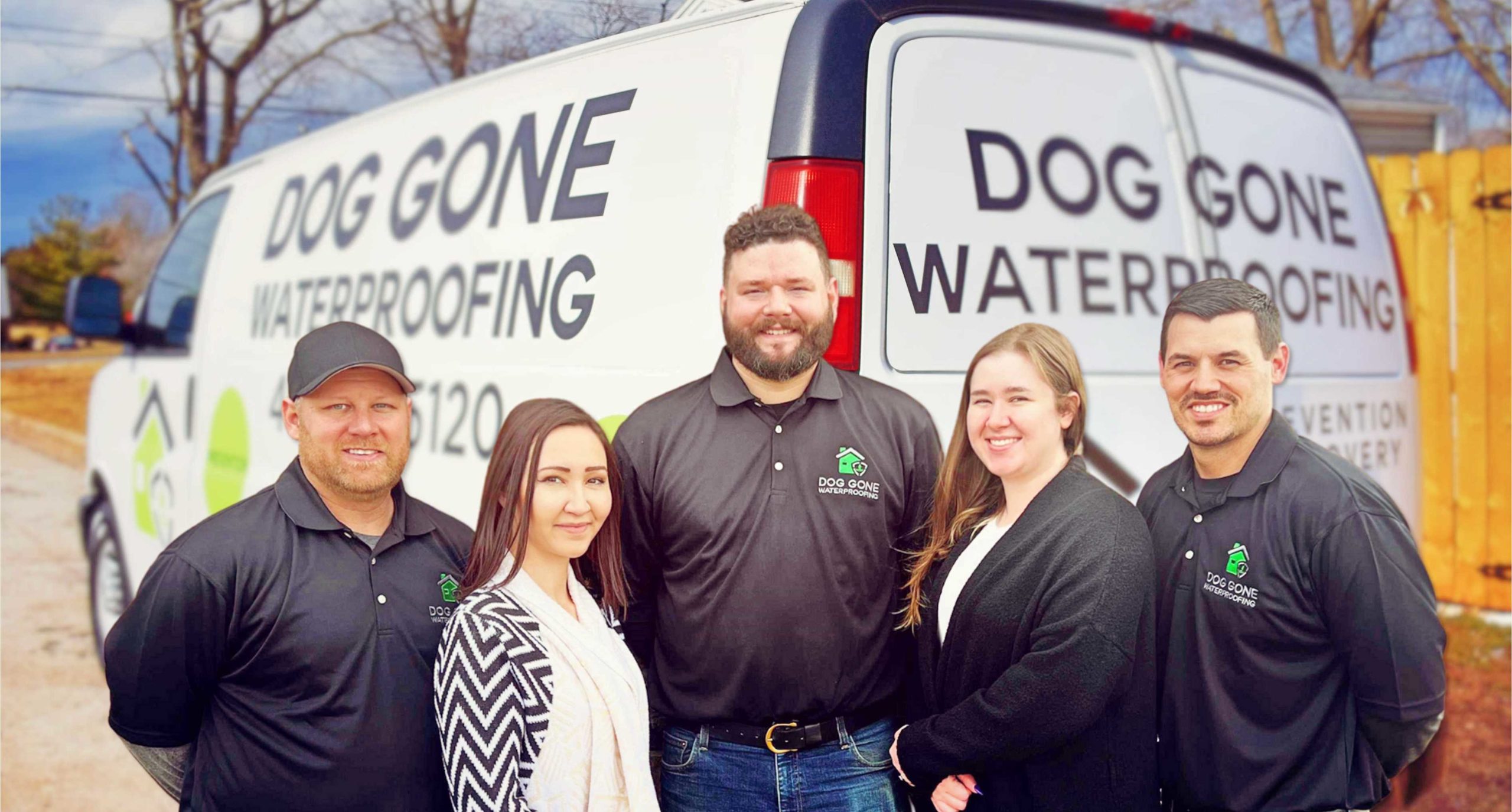 Any company that strives to be the best at what they do must have a great team leading the charge. Whether it's something as simple as installing a crawl space vapor barrier to a complete basement waterproofing system, at Dog Gone Waterproofing, we pride ourselves on excellence and accept nothing less. Meet the leadership team that makes it all happen.
James Stevens
Owner
Dog Gone Mold
Dog Gone Waterproofing
Dog Gone Junk
James started Dog Gone Mold in 2014, Dog Gone Junk in 2017 and started Dog Gone Waterproofing in 2021. We have been blessed to assemble a team that we are incredibly confident in and extremely proud of. We are very proud of the work we do in the Ozarks and we get great joy out of helping our clients and solving any mold or water issues they may have.
Before getting in the mold remediation and waterproofing business, James worked in the hospitality industry for 20 years. He started working when he was 14 as a bus boy at a mom and pop restaurant and moved up to being a server, a manager, and a General Manager of a fine dining restaurant.
His goal in starting his own business was to bring the 20 years of customer service and hospitality over to the construction industry. That is one of the reasons that we believe our service and attention to detail is unmatched in our present industry.
James is blessed to have a wonderful wife that is his biggest supporter and 2 beautiful children. James believes that his family has made him a better person in all facets of his life. They are the reason behind everything James does and he couldn't feel more blessed. The hard work of his wife in her own career and her constant support is what allowed James to step away from the restaurant industry and start Dog Gone Mold.
We know we are truly blessed in so many ways, which is why one of our greatest joys is giving back and serving others. We work with many charitable organizations in the Ozarks to help those that need it and hope to one day have our own non-profit to better serve our fellow man.
Derrick Hoyt
Certified Lead Inspector
General Foreman
Certified Waterproofing Specialist
Derrick was one of our original employees when we first started Dog Gone Mold. He performs the waterproofing inspections that are needed to put together a plan of action to restore the building or home. Derrick also manages the job sites and crews to ensure all our waterproofing jobs are completed correctly and promptly.
Before working at Dog Gone Mold and Dog Gone Waterproofing, Derrick worked in the outdoor electrical field as a groundman for the state of Missouri for 8 years. He was in the IBEW Local 53 Union based out of Kansas City.
To date, Derrick's certifications include a Class A CDL License, Certified Mold Inspector (CMI) and Certified Mold Remediation Contractor (CMRC). Derrick is also certified in waterproofing and has been a member of the Mold Inspection Consulting and Remediation Organization (MICRO) since 2017.
During his personal time, Derrick enjoys spending time with his wife and two kids. Derrick also enjoys going to the gym and watching his kids play sports.
A quote that Derrick lives by is: "Eventually all things fall into place. Until then, laugh at the confusion, live for the moments, and know everything happens for a reason." -Albert Schweitzer
Derrick is inspired by being able to help people bring their property back to its original state. We take great pride in knowing that their issues are resolved, and our clients won't have any worries or concerns with the quality of the work we performed. Our clients can rest assured knowing all necessary steps are taken to protect their investment.
This job allows Derrick to meet new people every day and assess every situation as a new project. Every day is a new adventure, and he wouldn't have it any other way.
Jon Swingle
Operations Manager
Certified Inspector
Certified Waterproofing Specialist
Jon has worked at Dog Gone Mold for 6 years and looks forward to expanding into Dog Gone Waterproofing. Jon looks after the day-to-day operations of the company. A typical day for Jon would be researching and purchasing high-quality products, communicating with distributors, instructing our staff with daily instructions, assisting our clients with hands-on consulting, performing waterproofing and mold inspections, and ensuring that our mitigations are completed to our highest standards.
Prior to becoming the Dog Gone Operations Manager, Jon was a crew leader during all mold mitigations which gave him the tools to rise in the ranks as the Operations Manager.
When Jon is not at work, you can find him performing as a seasoned local musician during special occasion events like Artsfest, Cider Days, CASA Southwest Missouri events, and Queen City Shout. Jon also enjoys movie nights with his beautiful wife and their two LARGE lap dogs. Jon wouldn't trade their life for the world.
Jon takes great pride in finding the best solutions for our clients and researching the latest technology in the industry. Jon also enjoy the constant problem solving that comes with this role. This industry is ever growing and ever changing, making it the perfect fit for someone like Jon.
Jeremiah Cleek
Foreman
Certified Waterproofing Specialist
Jeremiah has worked at Dog Gone Mold for 5 years. Prior to that, he spent 2 years as a millwright in a carpenter's union in St. Louis.
Jeremiah has worked alongside welders, he's installed HVAC systems, and he's skilled in metal working.
Jeremiah studied HVAC and welding at OTC and MTI, where he received his degree in intermediate and advanced welding. This expertise led Jeremiah to becoming Dog Gone Waterproofing's foreman where he oversees the installation of sump pumps, dehumidifiers, and the waterproofing of crawl spaces and basements.
In his spare time, Jeremiah spends as much time as he can with his wife and two daughters, who push him to be the best he can be and are his biggest supporters.
Jeremiah enjoys working out, lifting weights, and riding his motorcycle. He strives to help others by the work he does. Jeremiah takes great pride in making sure everything is done correctly.
His biggest goal is to ensure we do the best job we can for our customers and to make sure they are happy with the waterproofing work that is done.
Liz has worked at Dog Gone Mold for 4 years. She oversees that the day-to-day operations are completed successfully and in a timely manner.
Liz works diligently to make sure that every client knows every possible detail by working directly with each team member effectively and efficiently.
When she's not actively helping customers protect their homes, you can find Liz curled up with her two cats or spending time with her husband.
What keeps Liz going is the satisfaction in knowing she's helping protect her local community from potential health hazards and that she's able to leave a positive mark in the world.
Liz is always the first to arrive and the last to leave to ensure that every client is fully satisfied with the work that our team provides.
Liz takes great pride in making sure that every quote and inspection report a client receives is detailed in a way that is easily understood by everyone.
Alisa Bostick
Scheduling Coordinator
Financing Specialist
Head of Customer Relations
Alisa has worked at Dog Gone Mold for 4 years. She handles all scheduling of the inspections and waterproofing work, as well as any necessary follow up appointments for our inspectors and crew members.
Almost all calls and emails go through Alisa for response and handling. She also helps with client questions regarding our inspections, reports/estimates, and processes.
Alisa provides information about our financing options, and she also helps with referrals to other credible contractors when necessary.
Before working at Dog Gone Mold, Alisa worked in the customer service industry for over 17 years. She worked for a financing company and was a licensed producer for an insurance company before that.
While working for those previous companies, Alisa developed relationships with other business owners and leaders in the community through local networking groups like M.O.B, Chamber of Commerce, and BNI.
Alisa loves her family and enjoys spending time making memories with her husband, daughter and stepson. Alisa and her daughter have been volunteering for various charity events over the last 10 years. It's one of their favorite things to do together.
Alisa and her family have gone through a lot of obstacles, so she savors big family dinners and trips together. Nothing makes her happier than laughter, love, and food.
One of Alisa's favorite quotes is the old saying "When life gives you lemons, make lemonade." Even when the world seems like it's falling apart, there is so much more that can be done to make it a better place. Alisa always strives to make each person that she meets smile, whether it is laughing at her or with her.
Alisa is driven to find what will work best for each client. She always makes sure to provide the most accurate and up-to-date information in a way that best suits each person that we help. She always leads with compassion and offers a clear route to complete a goal.