Sump Pump And Dehumidifier Drain Line Repairs And Installations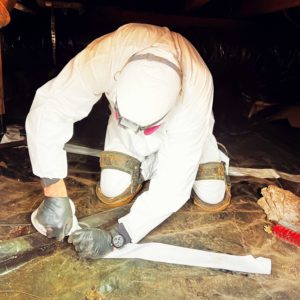 If you've had a sump pump or dehumidifier installed in your basement or crawl space, you have taken a very important step towards preventing water related issues in your home. But only if it's been installed correctly.
A properly installed sump pump system can extract water from inside your basement or crawl space to the exterior, far away from your foundation. A properly installed dehumidifier can keep your humidity levels in a safe range to help prevent moisture issues that can cause mold growth and uncomfortable living conditions.
But unfortunately, sometimes these systems were installed by a homeowner, a handyman, or a company that didn't know that the drain lines need to be installed a certain way to not only extract the water from inside your basement or crawl space, but to keep it from finding it's way back in.
In order for these basement and crawl space waterproofing systems to work effectively, those drain lines should be installed a proper distance away from the home and some of those lines should be buried in your yard with a pop up drain installed.
Sometimes an ice relief discharge needs to be installed on your sump pump drain line as a protective measure near the foundation exit point. This allows water to escape if your discharge pipe freezes or is blocked for any reason by snow, ice, or other debris during the cold winter months.
Your sump pump should always be installed in a proper basin, dug to the proper depths, and installed with drainage gravel to allow proper water filtration.
Your sump pump should have an operational float switch, so your sump pump knows when to kick on and extract water and an operational check valve to prevent your sump pump from having to re-pump water that has already been discharged.
And your sump pump and dehumidifier should always have outlets installed by a qualified electrician to make sure they have the power they need to properly function.
Just throwing a sump pump into a dirt pit in the crawl space is not the ideal way to keep the water out. Placing a dehumidifier with a 25 pint output capacity in a 1,000 sq ft crawl space is not going to keep all that moisture out of the air.
Even if your sump pump and dehumidifier are all installed properly, it won't do you any good if their drain lines are not installed properly to carry all that water far away from your home.
If you are having water issues, let Dog Gone Waterproofing inspect all of your basement or crawl space waterproofing systems to make sure all of the systems have adequate capacity, have been installed correctly and have drain lines that are designed to keep your crawl space dry.